Vajsha's Corsetry Page
Welcome to Vajsha's Corset links. OK, y'all found me. This is really great. Some of you have probably been really fustrated that I haven't taken any time to update this page or to add your comments. Still haven't done much about the comments, but I did go through the custom links and have updated a few. We probably lost about a dozen websites, but at least a half dozen more have been added.

So, about corsets. That is, afterall, why you are here. I can't be bothered with a monthly review of websites. I'm not even sure if you all are interested. I'm contemplating building a gallery of Victorian and Edwardian women in corsets. I have a tremendous number of "risque" postcard images as well as theater cards. I'm still in the design stages.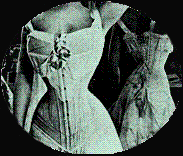 Custom Corsetry Only those that hand craft corsets listed here. Most makers are individuals who work very hard to create clothing art.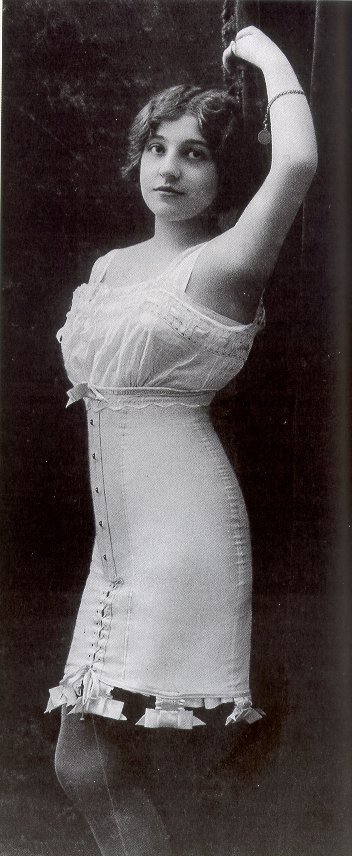 Retailers - Pre-made, standard size
I've created a separate site for the retailers, mainly because I think if you are serious about owning a corset, you're really looking for a custom corset.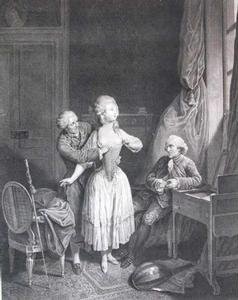 Corset History A time line/history of corsets with line drawings and actual examples (when I could find the exact ones). I'm hoping that before any fool places a corset for sale on ebay, they'll look at this page and realize that the busk goes in the front.



Corset Making Many people are more deft with a sewing machine than I am, so here are some resources for making your own corset.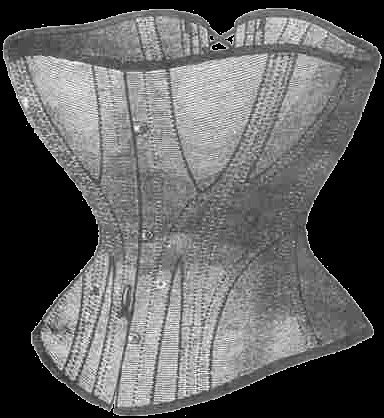 The Costume Page has a nice listing of all aspects of costuming, not just corsets. Of course, all I care about is the corsets.
Ageless Patterns have been up for auction on Ebay, but it's nice to be able to go to their site directly. Probably some of the most historically accurate Victorian corset patterns around. Yes, there were many years of the Victorian Era and each year new models came out.
Alter Years store for the costumer. Patterns and notions. Could be a great company except that they don't believe in customer service. Other than my own experience, I've had several corset enthusiasts declare that they would NEVER deal with this company again. Let me know if you have had similar or different experiences. I've had *one* person write to me to say they had a pleasant experience with Alter Years, but she actually went into the store.
AzRA historical resources. Has patterns for several corsets.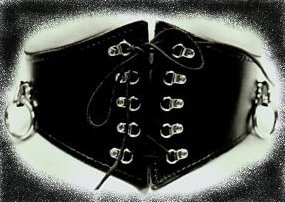 BDSM-online has an article by CrimsonLord about corsetry. Let me just point out right here, Victorian corsets were very hourglass shaped and wasp waisted, Edwardian corsets were Gibson Girl S shaped. They were also mass produced and had rust proof steal stays.
Costumes.Org has a wide variety of costuming information. Fetish ware to Renaissance ware!
Dragonfly Designs has a nice listing of patterns available.
Farthingales Fabrics by mail. Corset patterns, supplies and fabrics. NEW! Farthingales now has an on-line corset making class.
Grannd Garb The Historic Clothing Supply Company. Corsetting supplies including whalebone and patterns.
La Couturière Parisienne Costume and Fashion. Also in German. Used to have a pattern exchange, but I can't find it any more. Other information about costuming, though.
Lacis On-Line Catalog. I have personally used their catalog and I am pleased. Nice selection of stays, laces, fabrics, and stuff.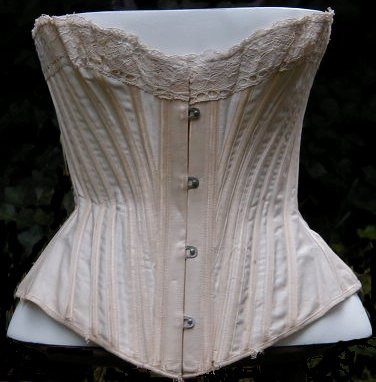 Milieux The Costumer Source. Large set of links to everyone and everything.
Past Patternshas several corset styles from different time periods. Find the one that you like.
Originals By Kay has patterns as well as doing custom work.
Red Dawn provides advice on costuming and simple patterns for chemises to wear under your corset.
Sewing Central Historical Patterns and Fabrics. They have some nice corset patterns.
Victoria Louise, Mercer The Mail-order Source for Fine Fabrics, Laces, Ribbons, Millinery and Corset Supplies, and Historical Patterns.
How to Make an Elizabethan Corset Nice simple pattern. Links to other resources.
How to Make a Victorian Corset has an on-line pattern. You have to navigate through the Unicorn Emporium, but the pattern is there.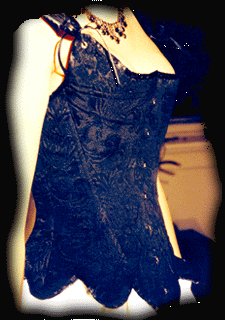 17th Century Stays A history and pattern.
18th Century Corset Pattern from the Costumer's Manifesto.
The T-shirt Corset Pattern instructions. I've been hearing about this on the Yahoo! groups for a while. I finally found it for you.
Clothing Construction in the Period Style has information and patterns for creating THE period corset.
Ok, ok, I finally decided that you might need this - Custom Corset Pattern Generator to make your own.



Corset Links and Information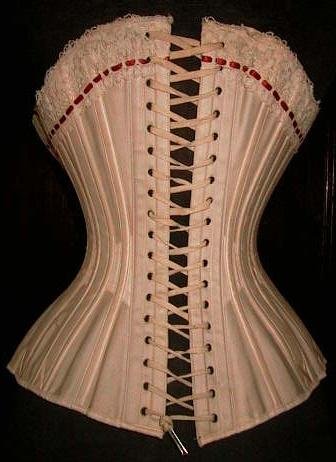 My husband, the great and wonderful Sloth, reads incessantly. He loves me in my corsets and he loves history, so naturally when he found a description in a New Orleans diary about corsetting, he transcribed it for me. I offer it up to you. Social Life in Old New Orleans - Enjoy.
The Crinoline girl has a great website. All about corsets and crinolines. This is her write up of her site: "Although my site is Victorian and Edwardian costume oriented, I have a special love of all things corsetty and I do sell antique corsets when I do find them (which is fairly often!) and have many original corsets (complete with full descriptions and measurements) listed on my Costume Timeline for reference. My Tidbits section also has some corset articles that I have written."
Bissonnette on Costume - A Visual Dictionary of Fashion has a Lingerie Collection that shows corset styles from three different time periods. I think I have been a thief of some of her pictures.
@ Corset Home Stories, pictures, history and a whole lot more. From Denmark - got to love those danes.
Pat Robeson's Corset News and bondage review. Information, stories, video clips and whole lot more.
Corsets: A Labor of Love brought to you by BDSM online. Hasn't been updated in a long time, but at least two different sites listed that have 10 things you never knew about corsets.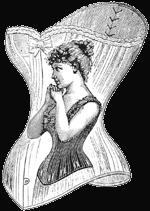 Global Fashions has a complete list of leather and pvc corset catalogs.
Long Island Staylace Association Support for the supported. I realize now that I have not said enough about this wonderful resource. My husband bought me a book from their service Waisted Efforts that I love. There is a great chat room, photo galleries, historical and current diaries and so much more. C&S Creations offers custom corsets through Staylace and body tubes to protect both you and the corset are available from their site. However, I must say, I *do* have more links than they do (grin).
Les Gracieuses Modernes in German and English. Page dedicated wasp-waisted women.
The History of Corsets is a very nice page with a history from ancient times to modern tight lacing.
The Needle Woman does not make corsets, but what she does with them is fabulous!!!! Gorgeous embroidery and beading.
Portraits of Nevada What does this have to do with corsetry? Well, go look, stop making me do all the work.
Romance Journal article/rant about corset wearing by Marissa Goldenman. Very good article about how flawed modern thinking about corsets is.
Sleek N Chic is a vintage lingerie site. I didn't know where else to put this site. They have a revolving stock but it's all vintage and antique. So technically it's retail, but I don't want to banish them to the retail page.
Trillium Corset Society of New York, Michigan and Ontario.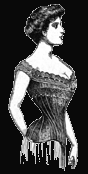 Victorian Corsets This page has links to several german sites. I can't read german, so go check it out for yourself.
Victoriana Zoe's Closet can be found here as well as vintage corsets for sale and information. A recommended site.
Waisted.com is a nice site that has information about making corsets, tying corsets, wearing corsets and the hazards of tightlacing.
The effects of Corsets on Women brought to you by the State University of New York.

EBAY !!!!!!!!!!!!!! I know, you're thinking ebay is a joke, I can't possibly be serious. In fact, I am. So now I have been vindicated! Ebay's Corset Category for those corsets you can normally find retail. AND Ebay's Lingerie and Stockings is normally where the vintage and antique corsets can be found.
There are some great clubs and groups out there right now. However, this site is now hosted by Lycos, so I won't advertize Yahoo! Besides, due to the "graphic content" of the corset sites, you can no longer find all of them listed. Someone has to tell you that they exist and then you have to try to subscribe to them. Piss on that.


I do have email. Write to me with questions, comments, etc. I'll do what I can to help.