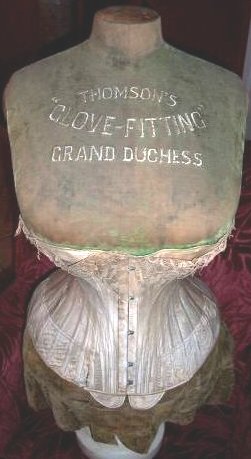 Absinthe and Old Lace Custom corset makers. Prices seem reasonable. Also have kilts for the well dressed man.
Altered-Tyme Corsetry. The site has some cute corsets, the model looks fantastic (a bit like Bettie Page, but we'll let it go). The site is under construction, but there are several corsets listed and there is a link to her ebay feedback.
The Ardent Collection in German. Sabine now has the site in English. You're suppose to be able to click on the flag to get the different languages and it will work some day! (she promises).
Asthetic Meat Foundation Not sure I care about the asthetics of meat, corsets, that's my bag. Leather corsets, some without pictures, but cool designs.
Azrael's Accomplice I especially like the Victorian with a bow butt. Very goth.
Bast Corsets a new website, costumes still under construction. Four corset models listed.
The BDSM Store has three pages of corsets available in sizes 6-24 and then they customize!!! I was skeptical at first. I have found recently that most BDSM stores on the net just don't offer a nice selection, but I admit, they have a good selection (although some "corsets" are bustiers, but won't gripe) and a fine selection of colors. All in leather.
BDSM Toybox customizes corsets to 44" (so they can do a 44" waist, but it will also be a 44" hip and bust - they need to figure out that some hourglasses may have a 44" waist, but the the other two are larger...).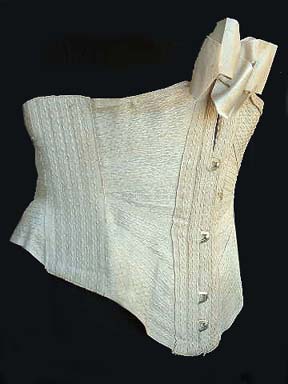 Brute Force Leathers. They have now teamed up with Fallen Angel Fashions. I like the "Treasure Chest" bra and corset.
B&T Alley Cat Productions Follow the link for Custom Costumes. Tasia makes corsets as well as other costumes. Requires a studio visit for custom work. Not to be confused with the other Taissa or Talana listed below.
C & S Corsets A fine English company that makes very spectacular corsets. Also available in the US from Long Island Stay Lace, but they are cheaper if you buy them direct. Very nice people.
Castle Blood Haunt Couture. I first saw their wares on ebay, so I went to visit their site. Some great costumes to go with their corsets. Banshee gets my vote for creepy.
Chainleather MarketingCorsets has two corsets by Moonfyre designs. Come in standard and custom sizes.
Chain Maille Fashions has chain corsets! Make a statement!
Suzi Clarke Costumier. Tudor style corsets and period costumes.
Corset Connection used to only be listed under retailers, but now they offer custom corsets as well! Designs by Isabella.
Corset Design by Ruth Mansson. Ooh La La! She makes some beautiful leather corsets. I love her cupless black leather. YUM. Custom made to fit you right.
Corsets Jardinire New domain name. I love my corset, over the bust with gores, from Lisa. Too hot to wear it a lot, but did wear it to Mardi Gras.
Corset-Manufaktur in german. Can't read a word of it. However, the CeC corsets (link listed above Axfords) seem to be custom corsets. If you can translate for me, please do!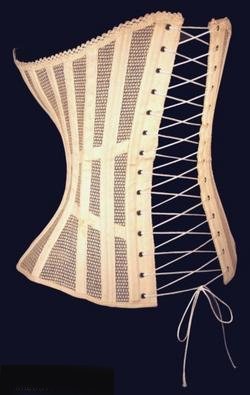 Cocoon Latex Boutique. This is a European company with a store in Birmingham, UK and Amsterdam, Netherlands. Have some great latex corsets as well as Vollers corsets. Retail sizes for women go to 20 UK (that's 44 inch bust), however, for an extra charge they will custom make their designs.
Jurnecka Creations by Sheri. She has some great costumes - in metallics! Some Renaissance men's fashions as well. I like Sheri's designs, she brings a sense of fun to corsetry.
Corsets And Costumes where Attitude Is Everything. Hey, they will make a corset up to 8X. Tudor, Elizabethan and Victorian designs.
Costumes, Period custom makes costumes for any occasion. Specialize in historically correct costuming - for you SCA types out there.&nbps; 18th century corsets start at $250, victorians at $175.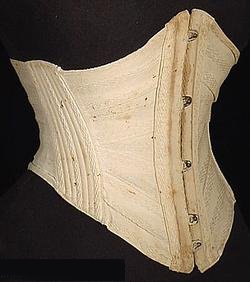 Crimson Gypsy for the discriminating wench. Two styles, custom or standard sizes.
Dark Garden Corsetry Custom made corsets. The first time I ever went looking at corsets, I found Dark Garden. I love their styles, their looks, their attitude. I dream of one day owning one of their corsets.
Delicious Corsets a nice site. Very cross-dressy, but the colors and designs are beautiful.
Desert Torch Tailoring. One Elizabethan corset.
Diva Corsets from the UK. Website not up and running yet, I will give it a month or so to see if we get something.
Faernyn's Grove I thought this link was broken, but it was just they got rid of the main.htm page. Sorry about that. I try to check every now an again.
Fairy Goth Mother from the UK, I think they are also listed under retail, but they now have custom corsets. Sometimes I wonder if I want to live in the UK just because I could wear funky clothes and no one would care... Well, except for the dons at the universtiy.
Fetishes Boutique is now Passional. Ok, here's the deal: they list Versatile Fashions (any style beginning with vf) and Axfords (axfd), XTC leathers (xt), Northbound leathers (nb), an off the peg that everyone seems to have right now (fc), but there is the ONE that I don't know... ctr. They are very nice styles, visit this site for a great overview of what is available.
Fetish N Leather great leather corset site. Custom colors, custom sizes - fill out everything they ask for on the dummy.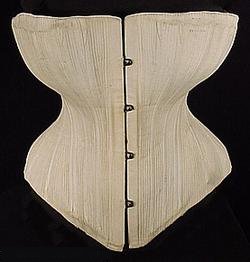 The Fitting Room Custom made corsets and supplies.
Gibson Girl OK, I'm placing this under custom creators because they say they handcraft each corset individually. *However* of the seven styles shown, waist sizes are listed 20-30. Maybe they've got a thing against larger people?
The Glamorous Woman OK, this is a site whose audience is usually men who want to be women. But they make corsets! And they promise that theirs are lined to "whisk perspiration away!" Works for me!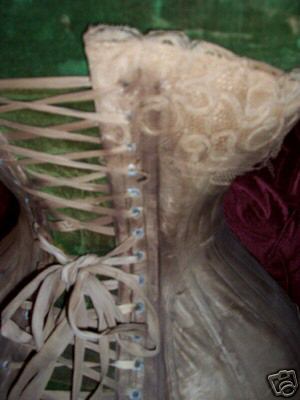 House of Harlot offers custom consultation and off the peg wear. Rubber corsets modeled by Dita Von Tease.
Isabella Costumiere Three pages of really cute (and some expensive) corsets. I absolutely love the Victorian Button Corset. Sloth would have a fit unbuttoning all those tiny buttons, teehee. Gowns and costumes in different period styles.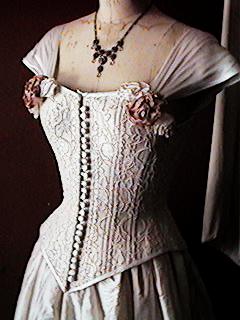 J. C. Creations - Amsterdam Beautiful. Simply beautiful. I cannot say enough about these creations. In English, German and Dutch. Custom made corsets in a variety of styles and fabrics. Prices include USD (dollars). I wonder if I gave Kim my measurements, if she would pick me up one?
Kindred Spirits is a site recommended to me by a corset lover. Very pretty costumes, etc. Technical gripe - on my computer the pictures cover up the words (probably because I use Netscape - doesn't seem to have a problem with Internet Exploader).
Korsett Shop from Germany, in German, but OH! the reproduction corsets are wunderbar!
Lace Embrace Atelier was sent to me by Crinolinegirl. Here is what she has to say, "Lace Embrace Atelier is the sister site of Corsets and Crinolines and is run by my friend Melanie Talkington (she's in BC, Canada, I'm in Leicestershire England and our businesses are run separately). She specializes in making historically accurate corsets that are suitable for tightlacing and waist training but can also create fetish and modern styled corsets. Men and larger waist sizes are also accomadated easily. She is a serious collector of antique corsetry so she knows her stuff."
Lara's Corsets and Gowns is a new addition to our list. Historically acurrant and inspired garments for women. Very simple site, 18th century, victorian and edwardian corsets each have their own page and options listed below.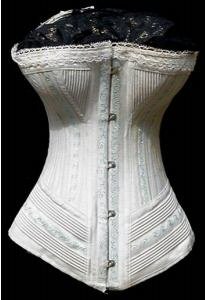 Mechantes Corsets is the new site for Moncton Princess corsets. However, she creates some really wonderful corsets that are available either through an auction or directly from her. It's worth the look. Update provided by marirene - Thanks. I finally took the plunge and ordered a custom corset from Mechantes. It's wonderful - I love it, can't say enough good things about it. Excellent construction, sturdy fabric, won't come apart any time real soon.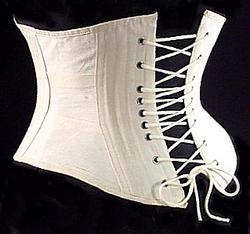 Morgana Femme Couture mostly leather and pvc, appreciate the humor behind the Santa Suit.
Mortisha's from Australia. Groovy gothic designs and wedding attire. Men's corsets too!
Nightshade Corsets & Clothing Canadian company. It was nice to receive their email telling me about their shop. Very nice designs, gothic influence.
OK Studios from Australia. One leather over the bust corset.
One Wilde Knight by O'Rion Xcalibur. I emailed them to get the low-down and they couldn't have been nicer. Out of Seattle,WA their corsets range from $300-$600, waists >40" or chests >46" there is an extra charge. By appointment only, so if you are in the area, give them a call.
Originals By Kay I hadn't been here in a while, revamped and looking good.
The Other Woman corsets for women and men. Very nice, takes fit very seriously.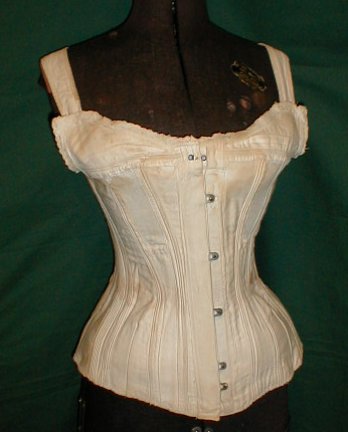 Pandora's Funbox I first saw Pandora's corsets on ebay. She also makes costumes, bloomers, corset covers, purses, hats and bathing suits. Sizes of 34" waists add 10%, over 39" add 30%.
Paul C Leathers Custom made leather corsets. $50 extra for waists above 38". Bargin! I appreciate their motto Big or Tall We Make Them All. The Gallery even has pictures.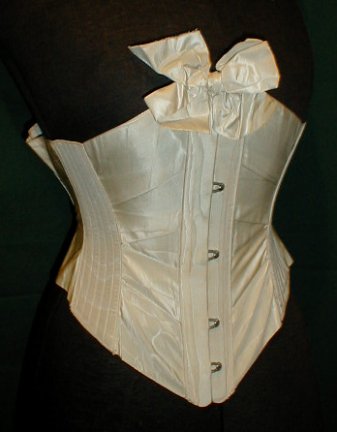 Period Corsets nice reproductions. Costumier for several operas and such.
Pretty Pervy designs by Obviously Odd. Yeah, the name kinda says it all. However, his custom work is spectacular and only available in the UK. There are other things on this website - collars, cuffs, I like the outie undies.
Puimond.com More styles now. Nice, re-vamped website since the last time I was here.
Revanche de la Femme has a french title, but is a german company. Custom corsets that are sold by The Right Place (see below). This is a direct link - no middle person.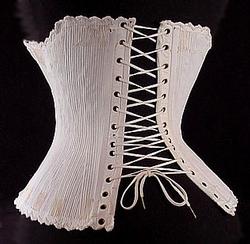 The Right Place in German, English, and French. Read the english version, but look at the german version - it's the only one with pictures of the corsets.
Romantasy represents several corset makers. Most pictures are of real corsets on real women. Again, this will cost you, but the corset will fit. I like their selection and I've heard very good things about this company.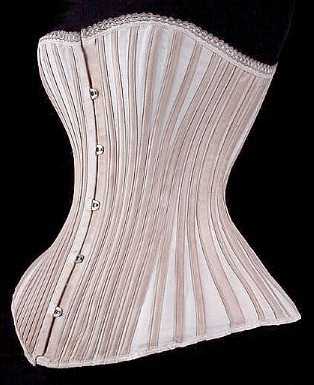 Gallery Serpentine from Sydney Australia. I like their basic styles and larger sizes are an extra $10. I am seriously considering ordering from them.
Shooting Star Enterprises. Custom designed Victorian and Edwardian costumes for the re-inactor. Nice site, two corsets - more promised soon.
Silks and Velvets designs by Yosa - reasonably priced corsets and waist cinchers. No mention of additional costs for "larger" sizes.
Sinister Designs custom leather corsets. I'm sending Busty McBoobs there to find herself a corset. Worth looking at.
Snares of Venus custom corsets and bras. The most intriguing corset they have is the corset panty. This may be just perfect for beginning waist training.
Space Junks Hard Wear. In German. Fetish leather, pvc, harness, chastity belt type corsets.
Starkers has a nice line of custom corsets. Waists over 35" add 10% and over 40" 20%.

Suzanne's Bra and Corset Bra sizes 20C - 60MM and corsets from 18" - 62" waists.
Svanlund Design Leather. Leather Amazon Warrior corset from Sweden!!! Work with me here.
Talana Gamah & Ieish erm, scary. Fetish clothing at its best. Considering how much I enjoy being naked, these fashions are not for me.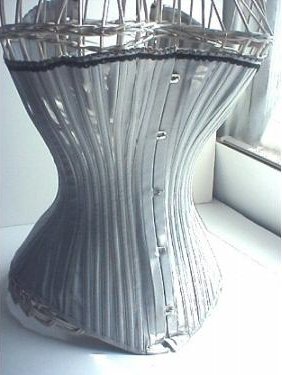 Tiger Torre Art Leathers custom leather corsets starting at $90. The masks are pretty snazzy too!
To Die For Designs not only has corsets, but they have *neck* corsets (aka posture training corsets).
Underground Aristocracy by Shumit Basu. Six enchanting styles to choose from, named after exciting aristocratic women. For men, too. Brocades and leathers.
Vampire Technology custom rubber apparel, furniture and art. Pretty wild, fetish and reasonably priced.
Vena Cava Designs Corsetry from the UK. They let me know that they've updated the site and all looks great to me! Here's what Elizabeth had to say, "We still make our exclusive bespoke corsetry but have decided to sell those hard to find bits and pieces for the home corset maker and also offer advice and help." Thanks to VCD.
Vermilion Gates Clothing and more. One brocade corset, one bodice, several nifty dresses.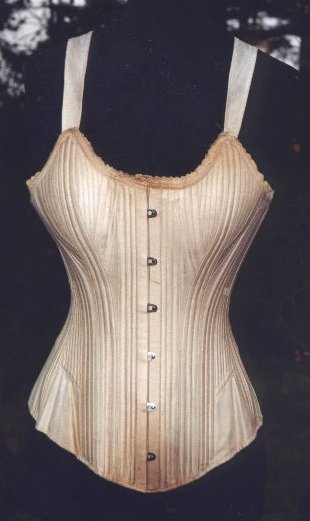 Versatile Fashions site has been revamped, 26 styles to choose from. These are *CUSTOM* corsets, although waist sizes larger than 36" are an extra 20%.
Vicious Venus from Melbourne, Australia. Joy wrote to me to let me know she had corsets, I'm so glad that she did. Very gothic-y, but with a touch of humor (liked the scottish plaid on one corset). Check out the jewelry as well.
Vicki's Nylons waist sizes 20-35 inches, over 35 you have to inquire.
Victorian Gothic from Australia. Seven designs to choose from, all great. Don't forget your wedding corset/dress!
Voller's Corset Company. I list several companies that carry Voller's corsets on the retail page. Custom in that they have different waist sizes. Nice selection, but you can do better.
Wagner This, my friends, is a very old, very respected site.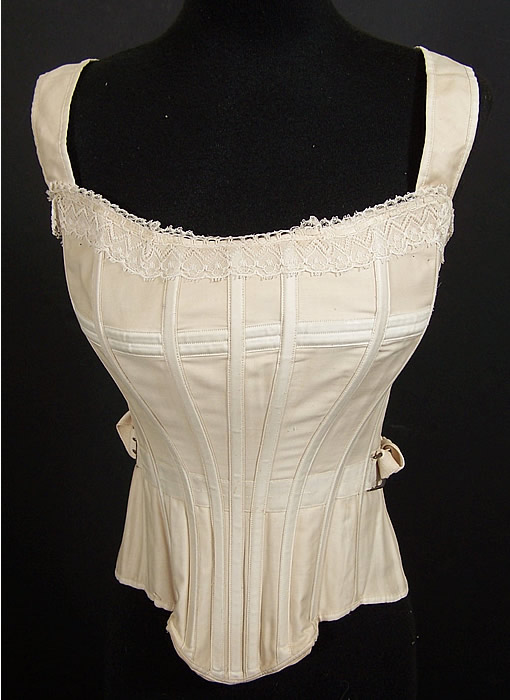 Wasp Creations Several pretty styles including a Summer Corset and a spectacular waist trainer. Waists over 34" add $40.
Woman's Touch from the UK. Hand made, but could not find out if they are custom made.
Wornert Couture corset couture. Interesting dresses, including bridal gowns. Really think the bridal gowns should be modelled by the women with tatoos. From Ontario, Canada.
Xcentricities I like this site. Several corsets modelled by people at Cons. I like their nipple sheilds, too bad you have to have piercings to wear them (ouch!). One style, but several ways to create it. Worth a look.